02 Nov

Antler Chandeliers as Modern Design Inspirations

For many decorators the image conjured up by the word 'antler' is a cosy log cabin with a roaring fire, lots of plaid and furry rugs. But the world of design is embracing antlers and other natural materials into both ultra-modern and traditional settings. Objects that evoke nature are soothing and an essential element of Scandinavian Hygge design.

From chandeliers, to lighting accessories, clothing hooks, candle holders, table bases and seasonal decorations, there are limitless uses for antlers to complement any décor.

The open and free-form structures of antlers make chandeliers eye-catching centrepieces for any room. From simple, one-level lighting fixtures to multiple-level statement pieces, antler chandeliers are an easy way to introduce an open and elegant feeling. In the bedroom below the designer has used a natural coloured antler chandelier to bring the outside, inside. The neutral colours are the perfect complement to the furnishings.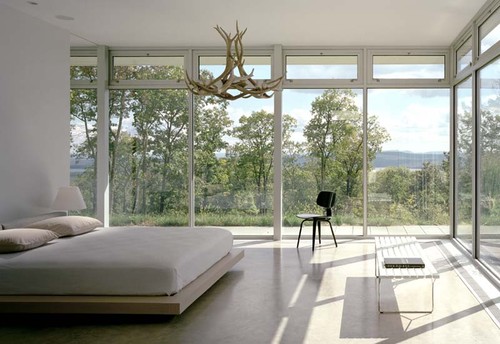 If you are looking to create the same effect on a budget, then our faux resin Jane Antler Chandelier is an affordable fixture with a similarly  attractive and curvaceous design.
Copyright Antler Chandeliers UK
Large antler pieces can also be used to bring in a new texture or fill a large wall with an interesting and natural object. The décor in this room could have drifted towards a piece of modern art or a mirror – instead the designer chose a stunning set of moose antlers to accentuate the peaceful and rustic setting.
Fallow deer antlers have a similar broad and bold shovel shape to them, and with our Dark Fallow Deer Antler Chandelier you can achieve an equally striking centrepiece for your room.
In this traditional home an antler chandelier provides cosy and inviting lighting above the kitchen table. The additional of glass bowls softens the light while still illuminating the area. Changing the bowls offers the opportunity to alter the personality of the chandelier – from traditional to modern.
Our Valarie 5 Light Traditional Red Deer Antler Chandelier is a medium sized, well proportioned light fitting that comes with antique style glass shades. Similarly, it can be modernised by changing the glass shades for something more contemporary.
The tiered antler chandelier can open up a high-ceilinged area. This country kitchen is a delightful blending of modern and rustic themes. The high windows provide lots of natural light but the antler chandelier throws plenty of glow for evening dining. A multi-level antler chandelier not only is a striking accent, it is a practical way to fill a space without appearing too heavy.
Our Behemoth Red Deer Antler Chandelier is a luxurious antler chandelier. Made to order from 3 tiers of red deer antlers and boasting 24 lights, this piece demonstrates antler craftsmanship at its very finest.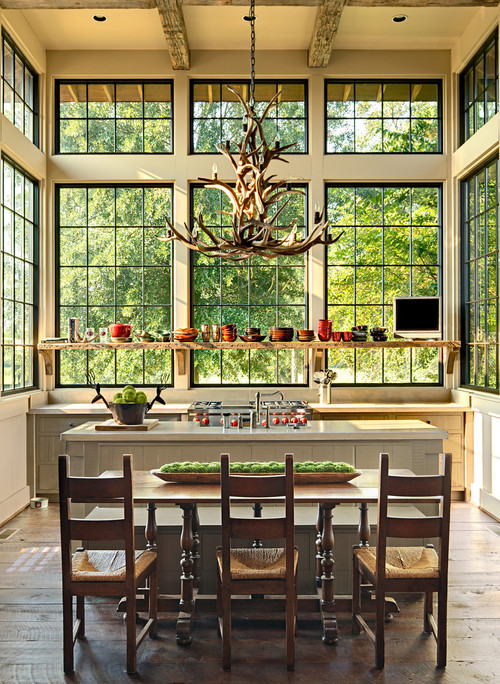 Black is an interesting neutral and used to perfect effect in this living room. The stylish modern furnishings in black, red and brass are perfectly complemented by this stunning black and brown antler chandelier. The antler chandelier is a timeless accessory to a sophisticated room. And note, too, that one single antler is used as a decorative accent on the coffee table.
Our Elegant and modern Eleglam faux resin black antler chandelier enhances a room without being over-the-top. Its dark colouring and symmetrical design make it an eye-catching and versatile piece.
The options for decorating with antlers are endless, and we are the specialists when it comes to antler chandeliers. Why not
browse our range of products
and get some ideas for your home or business?